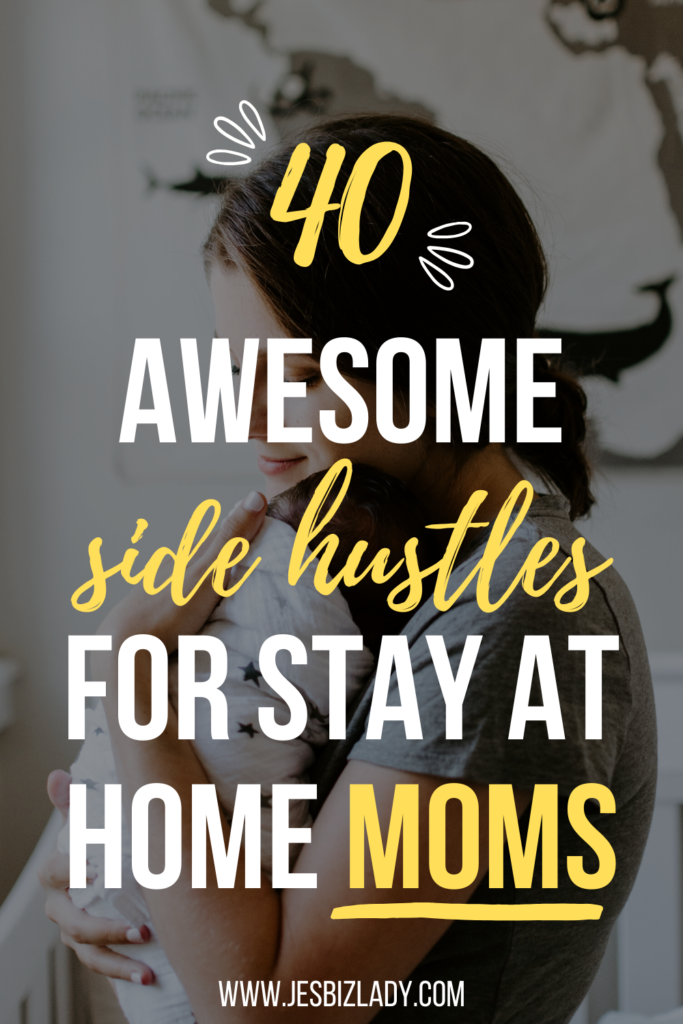 Gone are the days when stay-at-home moms lie idly doing nothing order than sleeping, eating, and watching movies. The time they say is precious and the world is so much dynamic that you don't even need to hustle around before you are able to make cool money. Moms are now exposed to legit side hustle ideas that could make you and your family be financially independent and place yourself on the route to becoming a self-made millionaire within a twinkle of an eye. Attend my FREE Webinar Class on how to earn money online Click Here….
Become A Freelance Writer
The writing niche is never exhausted from writers and no matter the number of books that had been written in the past, yours added to the market is another welcome anytime. Use your spare time to write and make a huge income from your intellect. From books, articles, blog posts to newspaper columns, your writing skills are great avenues to making money.
Become A Pinterest, Virtual Assistant
Talk about a high-demand business that isn't going to go anywhere, think about virtual assistants on Pinterest. You can set your own working hours to suit your needs. Bloggers need Pinterest and there's never been a better time to start your very own Pinterest virtual assistant business.
Make Printables To Sell On Etsy
Those art crafts made during your leisure time that has flooded your study or store could be auctioned for real cash. If you get a lot of admiration from people for art materials created by you effortlessly, then think of making money from drawing and paintings as soon as possible.
Many people are looking to help train their kids while they are away at work. You can use your spare time at the home taking of the little angels for a fee. It's more like earning money from your natural duty. IT doesn't cost much except your time.
Flexjobs.com is a great place to find legitimate work from home jobs. These jobs are often part-time which makes them great sides hustle for stay-at-home moms. This is a great option if you are looking for a steady dependable part-time income so you can spend more time with your family and still add to the family income from home.
Start A Virtual Bookkeeping Business
If you are organized and good with numbers, you should consider starting a virtual bookkeeping business as a side hustle. It's no secret entrepreneurs and business owners alike need help with the day-to-day financial operations of their businesses. You could be expanding your network from this also while earning money right from the corner of your room.
If you have a love for dogs, then I'm very sure there are people in your neighborhood who are willing to pay you to walk and take care of their dogs. Just attend local events and hand out flyers. You can also start a Facebook page and get your friends and family to share it. This side hustle for stay-at-home moms is perfect because you can bring your kids with you to help.
Earn Money From Graphic Design
With so many people gaining money online today, solid graphic design is very much needed. If you have a background in design and want to earn thousands of dollars more each year, get registered on sites like Fiverr, Upwork, Creative market, Freelance, etc.
All the ideas you have used over the years to raise your kids and maintain a healthy, wholesome and happy family could be put together as blog posts and shared with people to actually build a very large blog that could earn you returns from adverts and followership. You don't even need to invest your entire life savings to set this up. All you need is to put together all those ideas for millions of people waiting to lay a hand on those simple but handy tips you have used over the years to raise your own family. They should come in handy because they are stuff you have used in the past and they worked well, it should not be too difficult selling it to people.
Here lays another money-spinning venture that is never going into extinction any time soon so long people keep celebrating one thing or the other. It might be time to take your skills to the market and hopefully cash out from your bank. On average, researchers have it that at-home bakers earn between $10-$15 per hour just doing what they love.
If you know how to play any musical instrument, then another side hustle while you stay home with your kids is music lessons. You decide on your working routine. You can charge an hourly rate and take on as many students as you like. Offering music lessons has great part-time income potential, especially when you very talented in playing the instrument.
This hustle is a favorite among moms who stay at home, and for a good reason. Taking care of kids is a very happy and satisfying hustle, and many companies let you sign up as a babysitter. If your lifestyle fits with this job, then I suggest you try Sitter city and Sitter.com. Rather than sign up with these sites, you can also start your own childcare home business which could be more flexible for you.
You could market a whole lot of products that could fetch you huge cash starting from your network. With sterling marketing and excellent networking skills, then, direct sales will earn you so much money as side hustles. With direct sales, you control your timings, your work, and the amount you earn. Many legal direct selling businesses are in areas such as wellness, fitness, lifestyle, fashion, jewelry, food, etc.
Do you know that you can potentially earn a six-figure income with Amazon? Yes, you can. If you're a stay-at-home mom or a part-time side hustler, selling on Amazon will generate a decent income for you. Harm yourself with the right skills such as where to find the products, how to do the listings, and how to ship the items; this could be a great hustle. Give it a shot and make a fortune today.
Subscription Box Business
You can look at the subscription box business as a side hustle if you have the creative skills to find the right things. A subscription box business runs on two factors, finding the right ingredients to send to your subscribers and your marketing skills. You can operate this hustle wholly from home, and the income is quite enormous. Cratejoy is one of the most reputed companies out there that makes it easy to start and run this business.
If you have an eye for spotting errors in written documents, you could earn a whole lot of money with this side hustle.  Grammarly.com and small SEO tools could be great apps to work with. The number of words in the write-ups will determine how much you earn.  Let words out to people around you and seek your friends to help you post the info on their social media platforms.
Of all the work-at-home jobs you can think of, Transcription is the most advertised and most wanted by stay-at-home moms. This hustle is good for a few reasons, such as the speed with which you can reach the market, flexible timings, and fast learning. If you have been eyeing this hustle but unable to make a reasonable decision, take free courses and learn more about it.
A lot of people want to embark on those long and exciting vacations but do not have enough time to plan it. Traveling and enjoying your trip requires a great knowledge of your destination, the hotel accommodation as well as flight arrangements. Your previously gathered experience on your past holidays and business trips could be useful here. Just be meticulous about your plans and assist people to enjoy their trips and they will refer you to their friends.
Be a Professional Organizer
You could earn a fortune from assisting people to organize their lives. A stay-at-home mom is naturally expected to be neatly organized and possess an orderly home. You can leverage this special talent to earn some money in side hustles. Until Lisa Woodward started a successful professional organizing hustle with a team that manages the business. You can also give it a try.
If you want to start your own business, but don't want to shell out a bunch of money to get it started, then blogging might be the perfect solution for you! At a cost of just $2 a month, it's pretty much a no-brainer to at least give it a shot. But, understand that getting started could take some time – many bloggers won't earn their first dollar until 6 months into that. The bonus is the immense earning potential. If you love what you are writing about and help your readers with their problems, then blogging can be immensely satisfying. To anyone looking to work from home, I highly recommend this hustle.
Women, in general, are naturally better artists than men, and this often carries over into furniture refurbishing as well. The concept is simple – just get furniture for cheap or even free from garage sales and estate sales, paint it or re-stain it, and then sell it at a way higher than you got them.
Rent Out A Portion Of Your House
Your big house doesn't have to waste away while you lack enough money to live the best you dream of. Offer the extra rooms in your home for rent and without doing anything; you smile to the bank annually. If you are a single mom with a child I understand your hesitancy on this one, but there are quite a few single moms out there that swear by this side hustle! Basically, you're not doing anything special, but you raise hundreds of dollars a month more, and there's certainly a big payoff. Just be super cautious with your advertising and your selection.
There are various social media sites opened by new business owners and it's quite very difficult to keep up with updates on these websites. Stay at home moms should make the best social media manager who will take care of all these media accounts and anything else that would drive more traffic to the company page.
Do you have a university degree in something that you could teach? Or maybe teaching English as a second language sounds like a good side hustle for you. Check out VIPKid for teaching English online. They supply the lessons and you will be teaching Chinese children English. You can work during the hours you set and from the comfort of home. A great side hustles opportunity if you've always dreamed of teaching.
Are you usually excited about fixing the computer? You win a lot of clients to your side when you help people to fix their faulty systems and they automatically recommend you to their friends. Let your family, friends, and all your networks know that you're willing to help them out with their tech troubles for just $15 an hour. Advertising your service can be tough, but it's possible and you'll have fun bringing those computers back to life.
Rent Out Your Unused Truck
Why keep a property in your garage when you can actually earn some money from it? When you rent out your free truck, you could regularly earn some bucks from it. Make a Facebook page, build up a Twitter account, and make a simple app. This could really turn into something BIG.
Interested in teaching English as a second language online? If you have taught English in a classroom setting before, you are a shoe-in. For the rest of you, you may need ESL (English as a Second Language) certification. Earnings are between $10 and $22 per hour.
Have you built your own blog before? Then you are qualified for this cash cow idea which is believed as one of the best side hustles for single moms. Most people aren't intimidated by placing words on a website, they are intimidated by setting up a beautiful blog with graphics, a sleek look, and an ideal user experience. Help people get started and you could earn $25 an hour.
Do surveys on Swagbucks, Opinion Outpost, MySoapBox, or other paid survey sites. You only need to register on these websites and log into your accounts regularly carrying out given tasks and get paid appropriately. Your spare time can be converted to make some extra money for yourself.
Females are meant to be organized and can lay out facts in an aesthetically pleasing way. Then, resume writing might be the perfect side hustle as you stay home with your kids. Get a resume portfolio together and post it in local job seeker groups to drum up business. With a little bit of work, this side hustle could be a real money maker.
This is not something everyone can do and there is probably only a handful of people that are interested in it, BUT it is a money-maker and for the most part, you will be able to stay at home to tend to your kids without interruption while helping out a couple in need. The income usually ranges from $20,000 to $30,000, with extra funds for maternity clothes, medical bills, etc. If your body reacts well to pregnancy, then this might be a pretty cool option to consider.
Several of the best computer programs are easily written when you are alone and could create enough space for you to critically think and proffer solutions to numerous challenges people are facing on a daily basis. This will require you to attend a college or university to earn a degree in computer science to have a career as a programmer. There is a huge income you can make from this field if taken seriously.
If you are experienced at super-organized weddings, then this is probably a perfect match for you. Help a bunch of lovable couples makes the special day one that they will remember for the rest of their lives. A wedding planner's average salary is $22.50 an hour. You have a legit side hustle on your hands.
Do you enjoy staying in shape? Getting toned? And encouraging others to do the same? Sounds like personal training could be your perfect side hustle. Earn an average of $12-$25 per hour, and if you like it enough, you could easily make it your full-time money-making venture.
Your home is looking wow any day as a result of your special finesse touch. Your friends also give you kudos when you help them with their interior décor. Then, find a way to make some cool cash from helping people to set their homes in the right theme for a fee.  Interior design is a long-term solution to help others live their lives to the fullest in the space that they already own. It can be very rewarding and quite lucrative. The average interior designer earns $28 an hour.
Some people are horrible marketers and earn no money. Others figure out how to drive traffic and convert all those eyeballs into sales, and they make solid money because the sky is the limit. Your earnings are really up to you, but the idea is pretty cool and one of the best side hustles for single moms right now. You don't have to own a store nor stock up any good. Just link up buyers with sellers and get paid.
Supposedly, hairdressers make just $11.66 an hour on average, but what if you were skilled and you only styled hair for groups of people i.e. Wedding parties before the prom, or a gathering of friends. You could make more than double that I'm sure. If you're good, then be selective and earn the most you possibly can as often as you can.