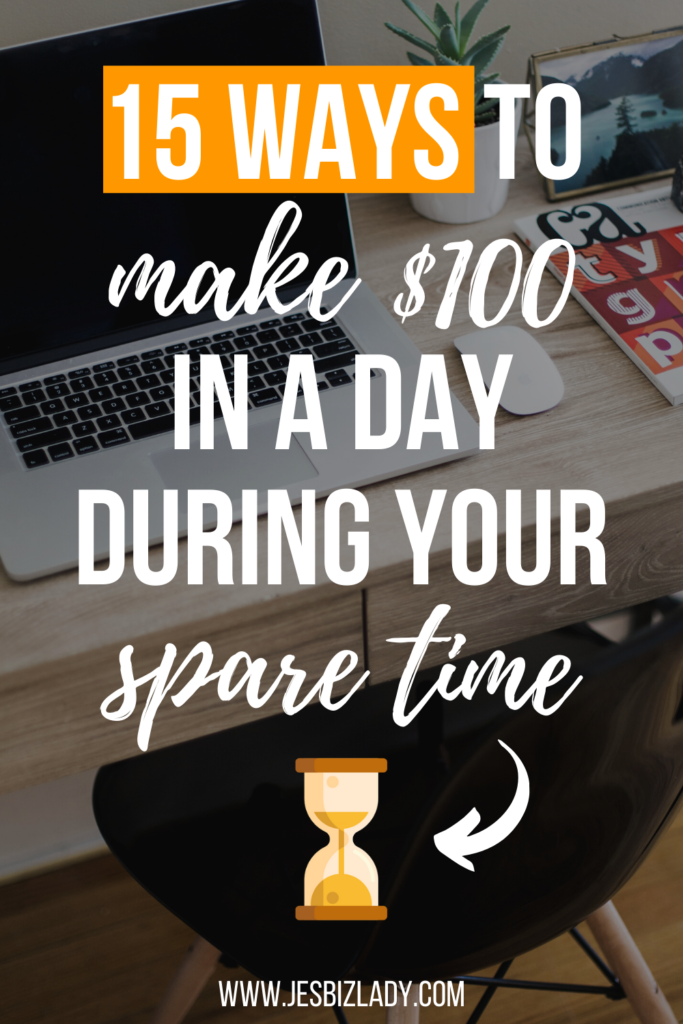 I get home by 2 pm daily at my new job and the time on my hands seems too much for me to just allow it to waste away in vain. My subconscious is just telling me to look for something to use this excess time to do so as to make some more money for myself. My former job was a 9-6 pm job and it takes me about 20 minutes to get home and I was usually exhausted before getting home. All that was always on my mind is to take a shower, take my dinner, and sleep as soon as I hit my bed. The spare time I now have is quite strange to me and I am happy about it somehow. I had always thought of looking for some spare time to make some extra income to no avail. I was advised by a colleague who said to me- "Your spare time can actually be plunged back into making some cool cash for yourself rather than spend your entirely spare time sleeping, playing video games, or chatting away with friends on social media, some money can be made with minimal effort. If you set your target at just $100 at first and you can grow the income tremendously if some of the following are tried.
Earn Money Taking Surveys
Taking surveys online is an easy, almost effortless means of making extra cash. Most of these surveys only require you to watch your favorite TV series regularly you definitely won't get rich or make 100 dollars within a day with surveys alone, but you won't waste much time and it will help you to get there by making an extra $5-$10 a day.
Become a Respondent of Market Research Studies
Just like taking surveys, you can share your opinion in focus groups or market research studies. Companies are looking for qualified people to join their study but you don't necessarily need to be a professional to participate in such studies. These companies offer a lot of one on one interviews/projects that suit everybody. And the best thing is that anyone who is 18 years old or older will enter.
If you love shopping around, how about doing it for others and getting paid? With websites like Instacart, you will work as an independent contractor delivering groceries for other people. You could make an average of $10 to $20 per hour. Just get offered the order, you shop the order and get paid. You make your own schedule and pick your orders and the flexibility is what makes it so great.
Get Paid To Watch Videos Online
You can also make money by viewing clips of movies, Television shows, videos of celebrities, the latest news, and many other items. Plus, you'll just get a $5 giveaway to sign up for. Register on the website and sign in to watch and instantly get paid for video playlists ranging from minutes to a limit of 1 hour. It is that simple!
Some companies offer you some cash in exchange for putting adverts on your car for a certain period of months. You will be eligible for this when you have reached a 50 miles movement and have a previously clean driving record. Since you drive around town on a daily basis, why not wrap up your car with ads and get paid for it.
Every man has one or two talents deposited in him and it takes a whole lot of inspirations to really go all out to make money from their talents. Those things you do effortlessly could be done in your spare time and sold online to make a huge income.
Do you shop with credit cards? If you do, you already know about credit card rewards. Many online retailers offer a sign-up bonus for new cardholders. You can be given 15% off your order for signing up with a card, for instance. Using credit cards responsibly is the key to making this work for you.
Make Money Simply Pet Sitting
If you love animals, pet sitting is a great way to make extra money. Signing up with a website like Rover.com will help you to find potential clients. To boost your chances of getting a job, add photos and if you have sat for pets before, ask their owners to leave a testimonial. Pet sitting is extremely flexible because you decide when to do it and you can fit it around your own schedule. It's easy to do even if you work full time, as you can spend time during the weekend looking after our little friends.
If you have some skills, you could put them to good use and do some extra freelance work from home. There are plenty of websites that will help you to find a side job to work part-time from home. You can work for a few hours a day as a proofreader, virtual assistant, writer, social media manager, tutor, and transcriptionist.
Get Paid To Play Games Online
Do you spend endless hours playing games on your phone when you have nothing to do? How about getting paid to do that? Developers will use your feedback to improve the games before launching them on the market officially. Once you reach enough units, you can redeem them for free gift cards including Visa gift cards, Amazon gift cards, Google Play, iTunes, PlayStation gift cards, and more. You are not going to get rich just by using this app, but it's a great way to earn some extra money by doing something you usually do for free before.
Create And Use A YouTube Channel
There are people who record their everyday lives and earn money from it. They upload their content to YouTube and are paid based on how many times these videos are watched, Advertisers are prepared to pay more for their advertising and the sales opportunity continues to expand.
Deliver Food For Companies For A Fee
If you detest sharing your car with strangers, doing the same with a burger and some fries, or a pizza should be a great idea especially when you will be monetarily be rewarded. There are some wonderful companies out there that will help you raise some extra cash by delivering food in your spare time, at night or on weekends. Your motorbike or ordinary bicycle is enough to do this for you. To sign up Click Here.. 
Are you the kind of person who loves to leave feedback and share your opinion about new advertisements, products, or websites? Website owners and app developers need to know what visitors think when they visit their site or use their apps for the first time. The main job of a tester is to ensure sites and apps are easy to use and navigate. Only a decent internet connection and a laptop are all you need.
There are thousands of pieces of new content created online every day. Not all business owners have time to create content for their websites themselves. If you enjoy writing, you will be able to sell your skills and become a freelance writer in no time. You can find freelance writing jobs on websites such as Fiverr, Upwork, freelancer, etc.
Another good way to raise money is to clean other people's homes. Busy people don't have the time for scrubbing toilets, mopping floors, cleaning walls, and knocking down cobwebs. If you don't mind cleaning your own home and want to get paid for cleaning other people's, consider spreading the word through your contacts. You can either charge by the hour or by the size of the home. To learn more about healthy products & how they can be extremely useful to protect your loved ones connect with me on Facebook Click Here… for more details
Time is of great essence to rich men and if you want to be ranked amongst the richest people in the world, you should never lazy around wasting that precious resource. This piece should spur you to awareness because there are thousand and one other means of plunging your spare time to make money for yourself. Be financially responsible.